In the ever-evolving digital marketing landscape, achieving an exceptional Return on Ad Spend (ROAS) is an exceptional milestone. In this regard, boAt, a prominent player in the consumer electronics industry, orchestrated a remarkable turnaround, elevating their ROAS by an impressive 5x.
With a spotlight on their strategic manoeuvres, data-driven insights, and innovative approaches, boAt uncovered the secrets to success and now resides in an unprecedented realm of success. While it started slow, the firm took pace and is now a popular, known industry in the electronics market, loved and recommended by consumers. Let's explore this.
Overview of boAt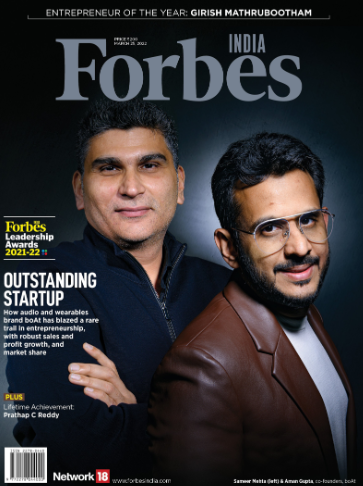 boAt came as an exception in 2014. Aman Gupta, co-founder and fervent brand advocate, envisioned a transformation. He recognized the need of trend-conscious individuals for audio technology that seamlessly blended with their lifestyle. This realization sowed the seeds of boAt, a Digital-to-Consumer (D2C) enterprise that ventured beyond traditional boundaries.
With a mere INR 30 lakhs as their initial capital, Aman Gupta and Sameer Mehta embarked on an uncertain voyage. Their determination bore fruit as boAt gained momentum, turning heads with its extensive array of wireless speakers, earbuds, smartwatches, headsets, and earphones – all tailor-made for accessibility without compromising quality.
In a conversation with YourStory Founder and CEO Shradha Sharma, Aman Gupta shared his unwavering belief that boAt's success was not just a coincidence but a testament to their unique mindset. Facing a market saturated with over 200 audio brands, Gupta's resolve to carve a distinct niche proved unyielding. "When we entered the (audio) category, there were 200 brands and it was highly commoditized in India, including brands from Germany, Japan… If we can get into it and build, I don't think others can't do it," he affirmed.
Importance of D2C Performance and ROAS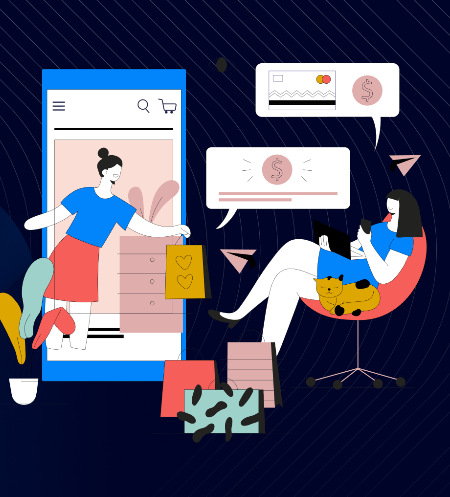 Unlike traditional marketing methods, D2C performance marketing offers a finely-tuned approach that resonates deeply with the target audience. It's a strategic collaboration of tailored precision and real-time adaptability, allowing brands to optimize their marketing efforts in previously inconceivable ways. With the ever-watchful eye of ROAS, D2C brands can align their strategies for maximum efficiency, ensuring that each advertising dollar spent yields quantifiable and meaningful returns.
ROAS becomes the guiding compass in this journey, ensuring that every marketing endeavour is not just a creative expression but a measurable investment. The ability to track and analyze the effectiveness of each campaign in real-time empowers D2C brands to swiftly pivot, enhance, or curtail initiatives based on their impact on ROAS.
The Boat Journey: Pre-2023 Scenario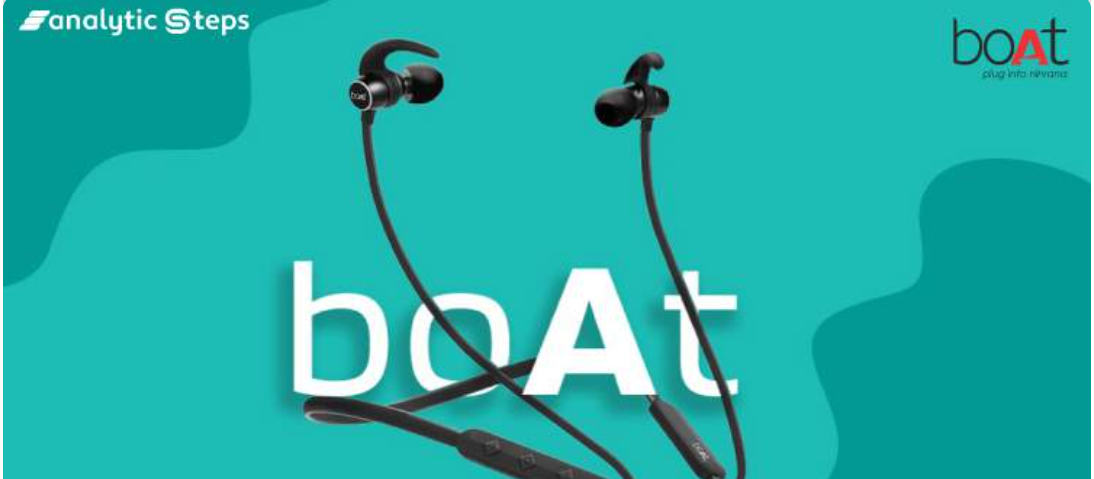 Initially a cable manufacturer, it swiftly evolved to serve 800,000 customers by 2020, commencing as a bootstrapped startup with an initial Rs 30 lakh investment. But how did it achieve so much in so little time? Let's delve into this!
boAt's Business and Marketing Strategy
boAt, the innovative audio powerhouse, orchestrates a business and marketing symphony centred on precision and exclusivity. Founder Aman Gupta's vision manifests in their niche-focused approach, honing in on the millennial soundscape. "We don't want to run a big company," Gupta explains, highlighting their emphasis on specialized expertise. This clarity is the compass guiding their professional management team.
Gupta reveals, "We did audio for the last four to five years. We will be investing a lot more in the wearables space this year." Staying true to their essence, boAt crafts wearable symphonies. However, boAt's key strategy is its influencer harmonization. Collaborations with personalities and influencers promote inclusivity. These partnerships amplify boAt's melody, engaging influencers' credibility to create an irresistible auditory allure. From headphones to earbuds, boAt's orchestrated strategy promises "something for everyone."
Initial ROAS Metrics and Challenges Faced
In its formative years, boAt embarked on an audacious journey, commencing as a bootstrapped venture with a modest initial investment of around Rs 30 lakh from its founders. Despite this, boAt's FY2018 revenues showcased a meteoric rise, surging from Rs 27 crore in FY2017 to an impressive Rs 108 crore. Fast forward to FY22, and boAt's net sales have soared to a staggering Rs 2,873 crore, a testament to its exponential growth and market penetration.
However, this remarkable trajectory was not without its share of challenges.
As boAt ventured to establish its unique identity in the competitive audio technology landscape, it encountered the uphill task of manufacturing trendy yet affordable products.
The market is full of formidable contenders, among them Noise, Mivi, and Skullcandy, posing as significant competitors.
For boAt, maintaining a balance between style, affordability, and superior quality became imperative, akin to being the "Zara of electronics," as co-founder Sameer Mehta described.
Identification of Key Areas for Improvement
As boAt continues to ride the wave of success, several key areas stand out for further enhancement. boAt must perpetually fuse fashion with technology to maintain its social touch and resonate as a lifestyle accessory. While overseas allure is present, boAt's priority remains to solidify its household brand status within India before venturing abroad. boAt must remain agile, embracing disruptive technologies to acknowledge the dynamic tech landscape. Their strong financial performance, EBITDA positivity, and ambitious growth projections underscore their solid standing.
Strategic Revamp: Approaches Taken by boAt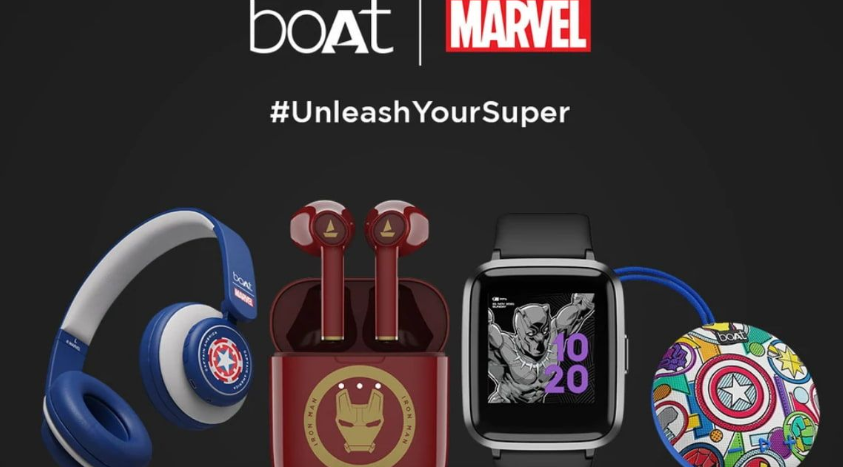 boAt's strategic revamp showcases an adaptive approach to capitalize on market trends, consumer preferences, and emerging technologies.
Niche-focused Product Diversification
boAt's evolution from an accessory manufacturer to a comprehensive audio product provider demonstrates a strategic pivot. By expanding its offerings to include various products such as headphones, earphones, wireless speakers, and more, boAt caters to diverse consumer preferences within the audio technology niche.
Value-driven Pricing Strategy
The brand's commitment to affordability without compromising quality has led to a dominant position in the Indian market. boAt strategically prices its products to appeal to a broad range of consumers, from budget-conscious buyers to those seeking premium options. Regular discounts and promotions further enhance their competitive advantage.
Lifestyle Brand Positioning
Leveraging the power of lifestyle marketing, boAt positions itself as more than just an audio equipment brand. By associating its products with fashion, style, and culture, boAt establishes a deeper emotional connection with its millennial target audience, increasing brand loyalty.
Influencer-driven Promotion
The strategic collaboration with celebrities, actors, and social media influencers amplifies boAt's brand message and establishes an aura of exclusivity. Through influencer marketing campaigns, boAt creates a wider reach while benefiting from the influencers' credibility and appeal.
Omnichannel Distribution and Engagement
boAt's omnichannel approach, combining online and offline marketing with word-of-mouth strategies, has propelled its recognition. Through strategic investments in search engine optimization, community building, social media engagement, and even traditional marketing channels, boAt has created a holistic brand presence that effectively engages its audience.
Key Takeaways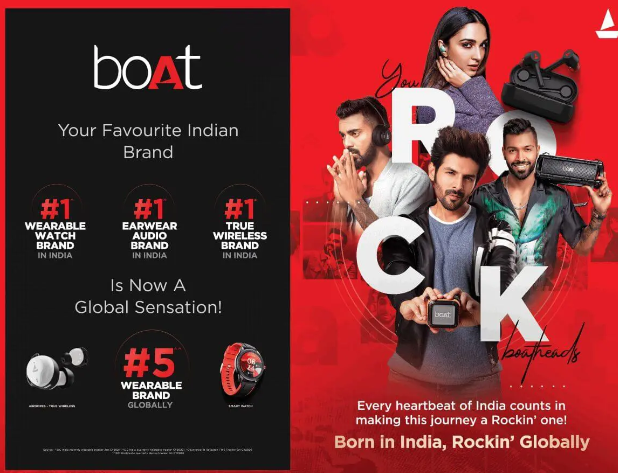 Emerging startups should learn lessons from the key takeaways of the boAt's success story. These are:
Strategic Timing: Entering the market when there was a surge in tech gadget usage and wireless earphone fascination, coupled with the online shopping trend, enabled boAt to capitalize on evolving consumer behaviour.
Value-driven Positioning: boAt successfully positioned itself as an affordable yet quality-centric brand, identifying and filling a pricing gap in the market. This strategic differentiation from premium competitors garnered consumer attention.
Innovative Marketing: With the help of influencer collaborations, social media engagement, and event partnerships, boAt created a strong brand identity and an exclusive aura around its products. Collaborations with celebrities resonated well with India's music, cricket, and Bollywood-loving audience.
Patience and Persistence: Despite initial challenges and lack of investor faith, boAt's founders demonstrated resilience and determination. Patiently building the brand over time and overcoming obstacles contributed to its long-term success.
Youth-Centric Approach: Employing a workforce from the target audience helped boAt understand and cater to the preferences of millennials and GenZ, enabling them to design products that resonated with their customer base.
Incorporating these strategies and lessons into their approach can empower D2C brands to enhance Return on Ad Spend (ROAS), build strong brand identities, and achieve sustainable growth similar to boAt's remarkable journey.
Conclusion
boAt's exceptional journey from a bootstrapped startup to a dominant player in the consumer electronics industry is a testament to the power of strategic innovation, value-driven positioning, and relentless determination. Aspiring D2C brands can draw valuable insights from boAt's story, emphasizing the importance of timing, differentiation, and youth-centric approaches to navigate the dynamic landscape of modern digital advertising.